20 september 2023

Address by the President of the Republic of Uzbekistan Shavkat Mirziyoyev at the 78th session of the UN General Assembly

13 september 2023

Foreign Minister of Uzbekistan took part in the Foreign Ministers' meeting of the Central Asian States

08 september 2023

Foreign Minister led delegation of Uzbekistan visited the USA

02 september 2023

Ambassador of Iran completed his diplomatic mission in Uzbekistan
Embassy of the Republic of Uzbekistan to the Republic of Kazakhstan
Welcome to the Republic of Uzbekistan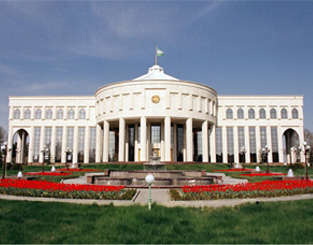 We invite you to visit sunny Uzbekistan and become our welcome guest! You will get unforgettable experience during visiting the world-famous cities: the pearl of the East - Samarkand, excellent Bukhara, fabulous Khiva, the capital of friendship and warmth - Tashkent, the heart of the Golden Valley - Ferghana, the ancient center of Buddhism - Termez and other cities.
The capital of the republic - the city of Tashkent - is the largest political, economic and cultural center of Central Asian region.
Population: more than 2.5 million
.